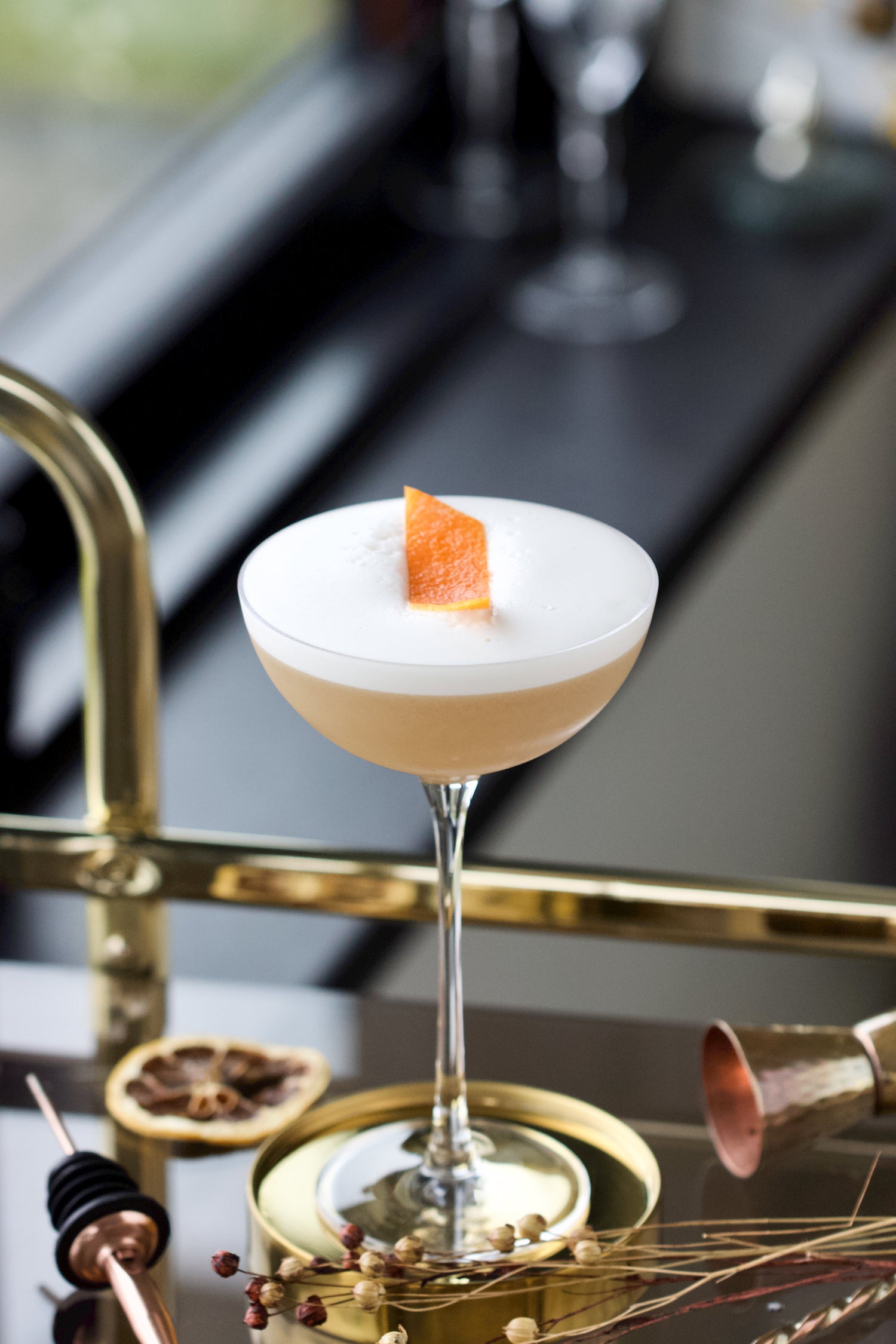 NOT A SOUR HOUR
A (Not)Whisky Sour made by the one and only Morten Krag (@thecocktail.blog)
You take a peated and rye distillate and throw them together with chestnut and cedar wood - add some high-tech acceleration techniques, such as ultrasound, heat and oxygen - and you end up with a most aromatic, subtle sweet, spicy and smoky spirit

Then you top it off with some most foamy Danish egg whites, and you are all set for a memorable Sour-Moment


5 cl            White Forest
2.5 cl         Fresh Lemon Juice
1.5 cl         Simple Syrup
1.5 cl         Foamy Egg White

2 Dash Aromatic Bitters
Shake with plenty of Love & Ice
Double strain into a chilled coupe
Garnish orange zest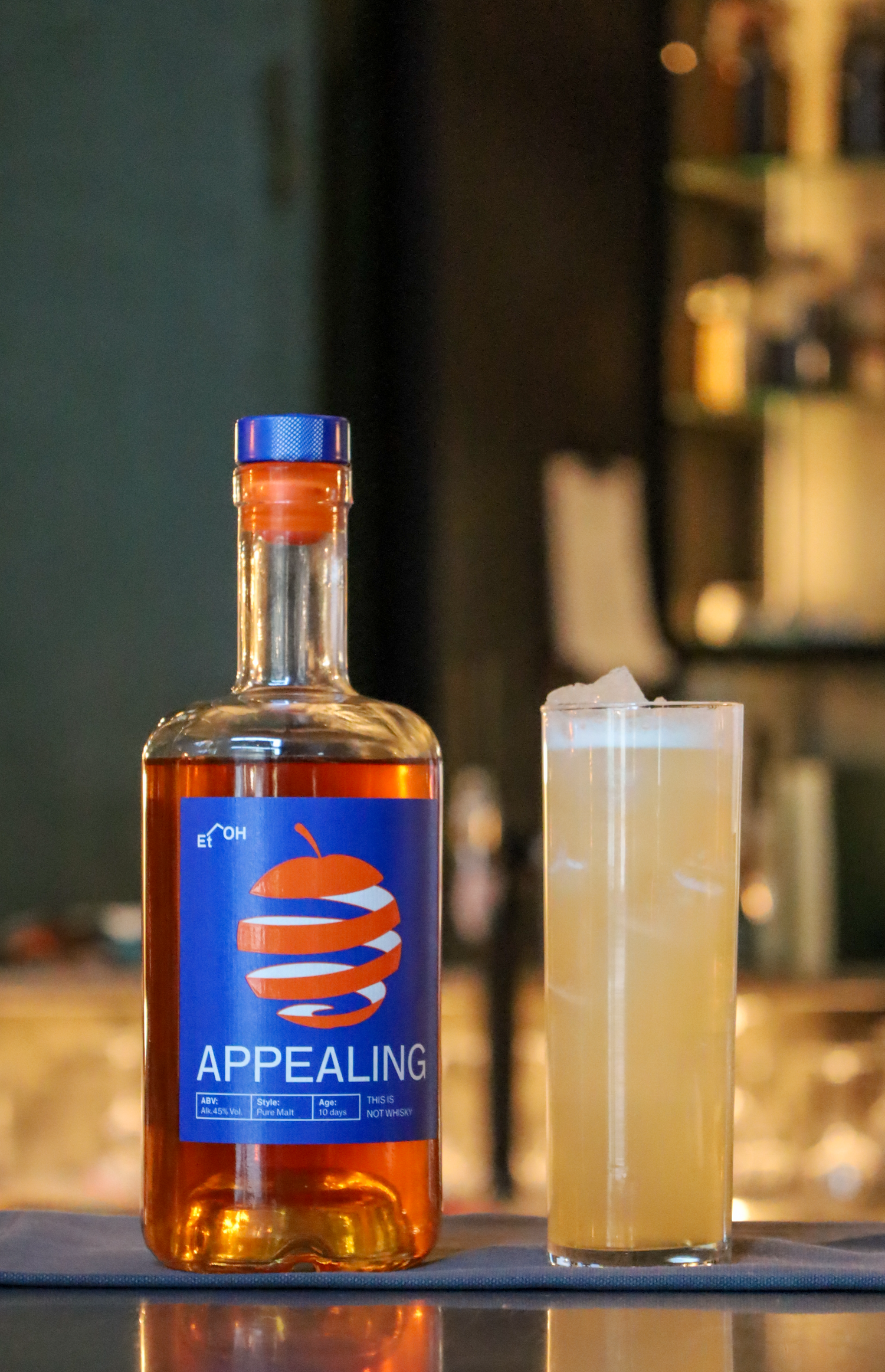 COX
After using the pulp and leftovers from Æblerov's cider production, it only made sense to also use their cider in this drink! Like biting in to a sour apple! 
This crisp cocktail by Mixmasterflex (Bobo Food Studio) is fruity, fresh and surprisingly complex. If you can't get cider from Æblerov we pity you. Make sure you use the driest, most acidic cider you can find. Ideally something spontaneously fermented.
6 cl.            EtOH Appealing
3 cl.            Lemon Juice
1,5 cl.          Pineapple Syrup
2 cl.            Green Chartruse
0,5 cl.         Egg white
Combine ingridingents in a shaker, first shake the ingredients without ice to emuslify the eggwhite, then shake again with ice to chill the drink and create a soft frothy foam.
Pour into a chilled highball glass filled with ice. Top with Cider.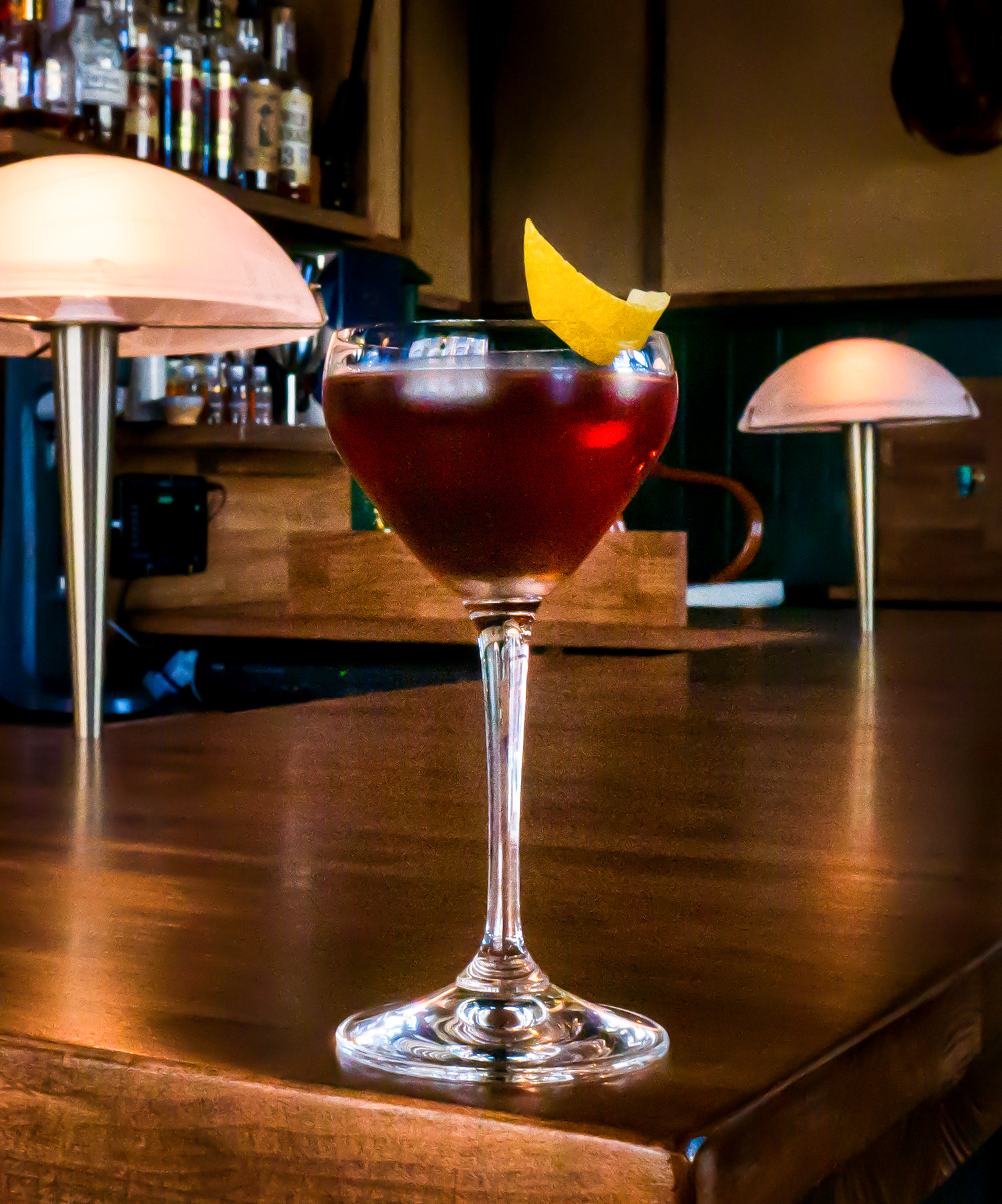 BOBBY BURNS
This variant of the Rob Roy becomes a real masterpiece when using a peaty spirit such as Arbejd. It is a visionary cocktail for its aromatic depth and big complexity. Balance it carefully to achieve an elegant and memorable drink.
4 cl.          EtOH Arbejd
2 cl.          Sweet Vermouth
1 cl.          Dom Benedictine


Stirred for 10 seconds over ice, finish with lemon twist.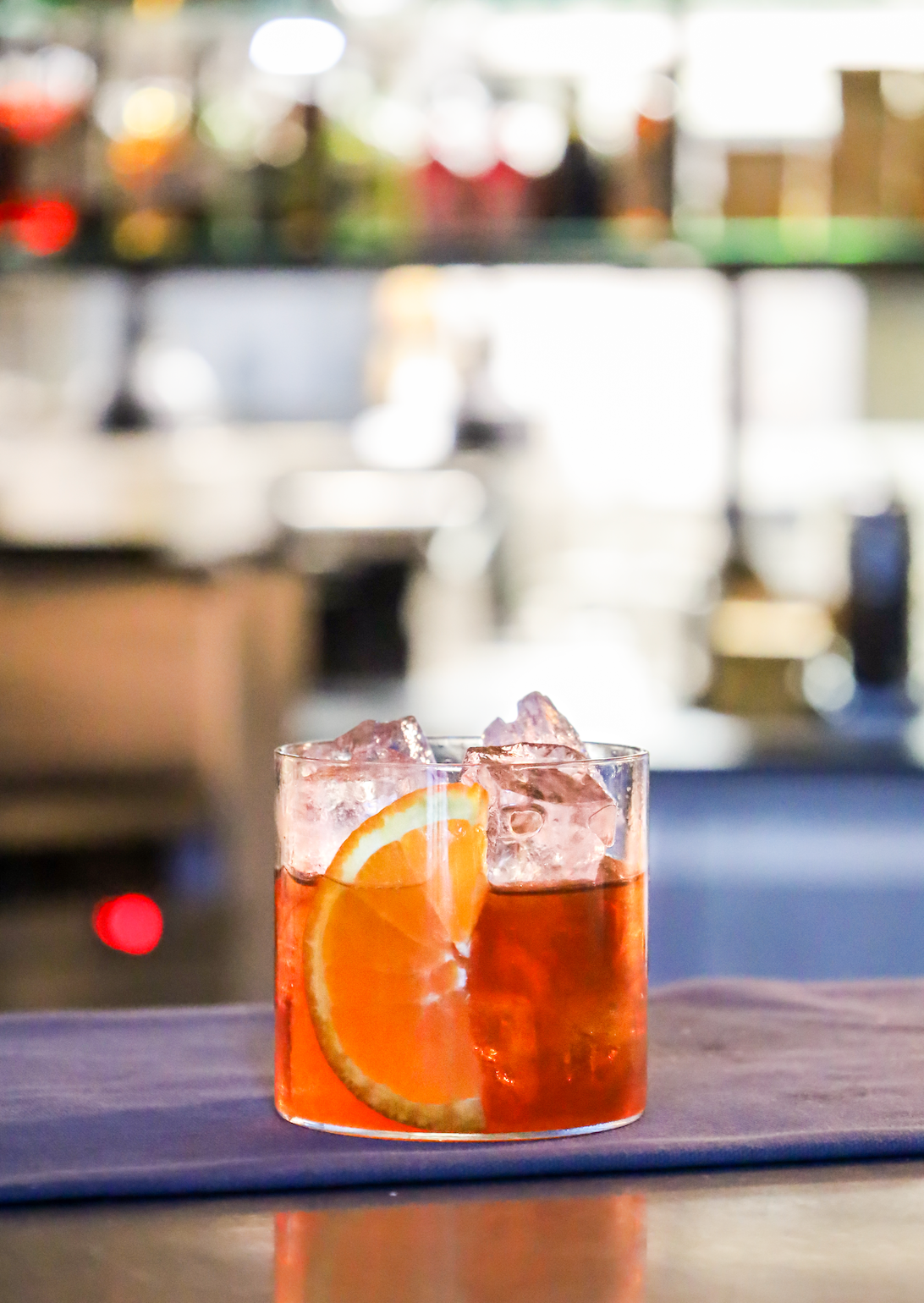 VERY RUSTY NAIL
An afterdinner classic! Our version get's a little bit more "rusty" with the addition of Atlantis instead of scotch. 
The extra coffee and cacao flavours in the spirit really takes this otherwise plain drink to a whole new level.


4,5 cl.            EtOH Atlantis
2,5 cl.            Drambuie
Add the Atlantis and Drambuie into a mixing glass with ice and stir until well-chilled.
Strain into a rocks glass over one large ice cube.
(Optional: Add a slice of orange)
PENICILLIN
Ásgeir aka. Mixmasterflex makes drinks from memories at Bobo Food Studio. His no-nonsense, rule breaking, Avant Garde approach to cocktails is very inspirational to us. Maybe that's why we really like working together.
This is his interpretation of Sam Ross's classic Penicillin using two of ours spirits to their full potential, they whey adds frothyness, acidity and great texture.
5 cl.             EtOH Double Peached
2 cl.             EtOH Arbejd
2 cl.             Whey
2 cl.             Fresh lemon juice
2 cl.             Honey-Ginger Syrup
Add all ingridients to shaker with ice, and shake hard until well-chilled. Strain into a rocks glass over fresh ice. Garnish with a lemon twist or candied ginger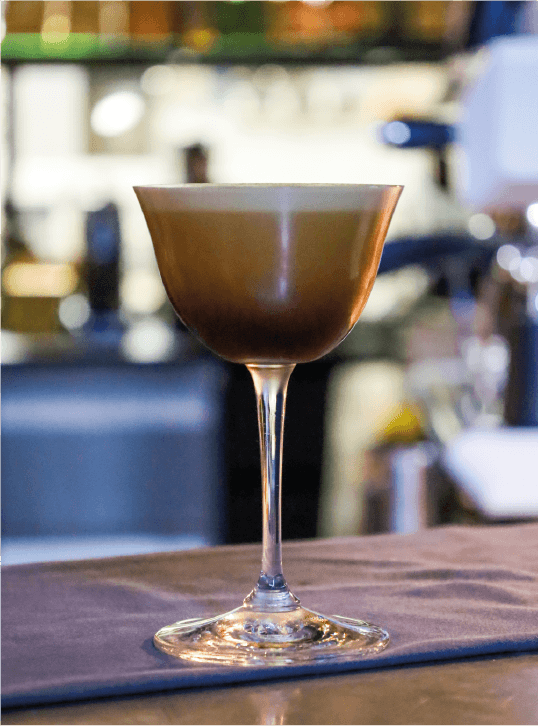 ORANGE ESPRESSO MARTINI
We have always argued that a good Espresso Martini should be made with a brown spirit. What we didn't know is how well Atlantis would work.
What makes this cocktail really pop is the addition of Orange Sugar. Do not skip it! Rub caster sugar with lots of orange zest and let it sit overnight. In the morning, remove the zest and stir in boiling water for a 1:1,5 ratio syrup.
4 cl.            EtOH Atlantis
4 cl.            Cremé de Moka
3 cl.            Fresh Espresso
1,5 cl.         Orange Syrup

Add all ingredients to shaker with ice, and shake hard. Strain into a chilled cocktail glas, squeeze an orange twist over the glass, then discard.
Button label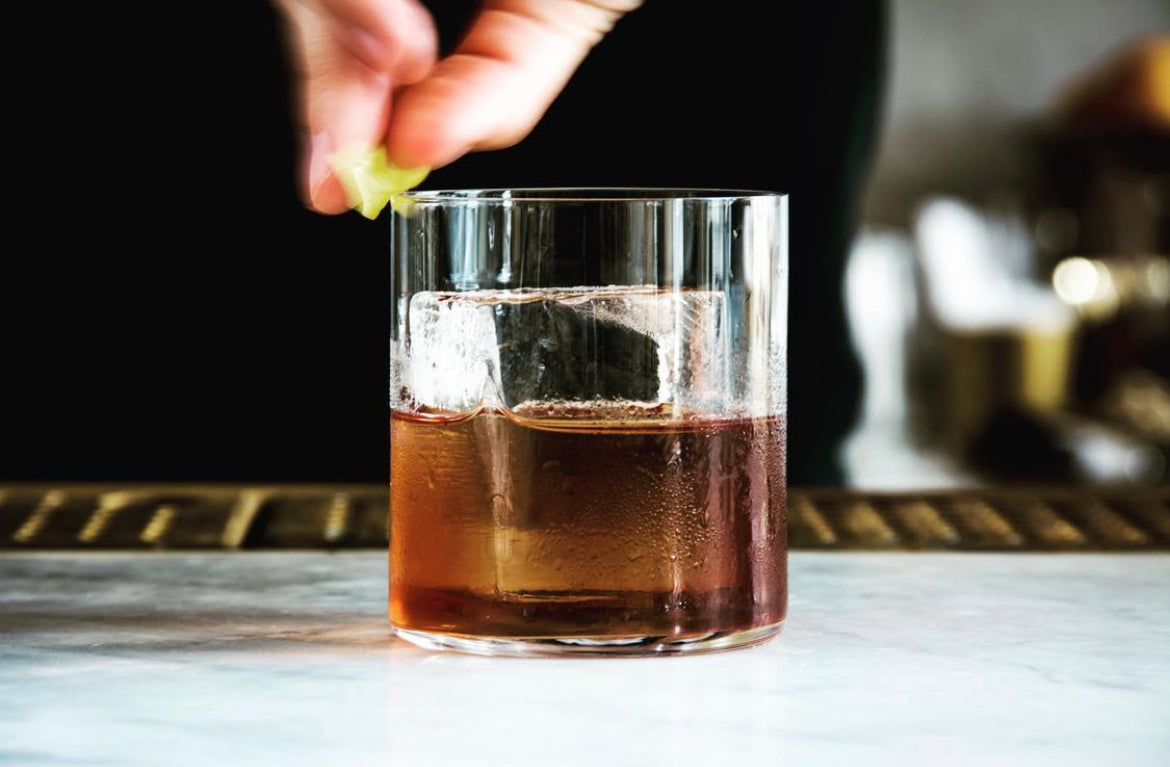 Blackcurrant Cherryous
A new take on the Old Fashioned. Made by RUBY Bar. The blackcurrent paired with Danish Sour Cherries from our Spirit brings out deliciously deep and balanced flavours suitable for any occasion.  


6 cl.            EtOH Rye So Cherryous
1 cl.            Blackcurrant vinegar caramel.                             (or other berry syrup)
3 dashes   (Your preferred bitter)

Add 3 dashes of bitters, 60 ml of Rye So Cherryous and fill the glass with a large ice cube. Gently stir to combine the ingredients and dissolve some of the ice.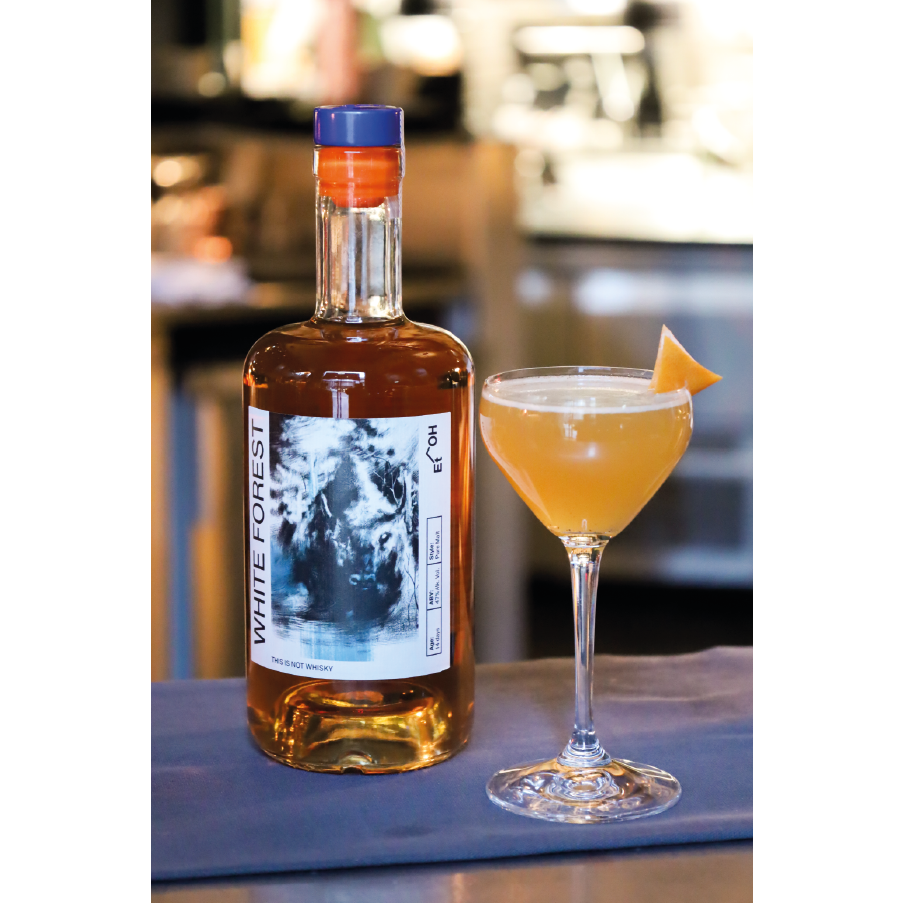 Freudian Slipper
One of the craziest cocktails we have ever tasted courtesy of Ásgeir aka. Mixmasterflex (Bobo Food Studio). We were blown away by this unique concoction. Loads of big, tropical, fruity flavours at perfect interplay with spicy cedar and smoke makes this playful drink a true signature.


3 cl.            EtOH White Forest
3 cl.            Tempus Fugit Creme de Banane
2,5 cl.         Lemon Juice
1 cl.            Yuzu juice
1 cl.            Green cardemom


Add all ingridients to shaker with ice, and shake until well-chilled.      Strain into a chilled rocks glas with ice and, garnish with a twist of pink grapefruit.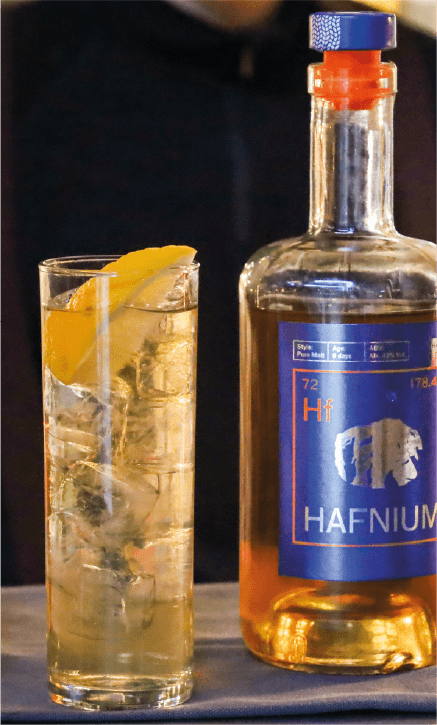 SPRING IN COPENHAGEN
Here we combine Elderflower and Hafnium into a thirst quenching, refreshing highball. To add some tartness, feel free to squeze a lemon in there too.


5 cl.            EtOH Appealing
                   Top off with Elderflower drink (Not                       concentrated)

Add ice to a highball glass, stir until water starts to form and the glass is propperly chilled, strain water.
Add Hafnium and stir well, top up with more ice if needed. Add Elderflower Drink and stir briefly.
Squeeze a lemon twist over the glass to release the oils, then drop it in the glass and if we're in season, add an elderflower too!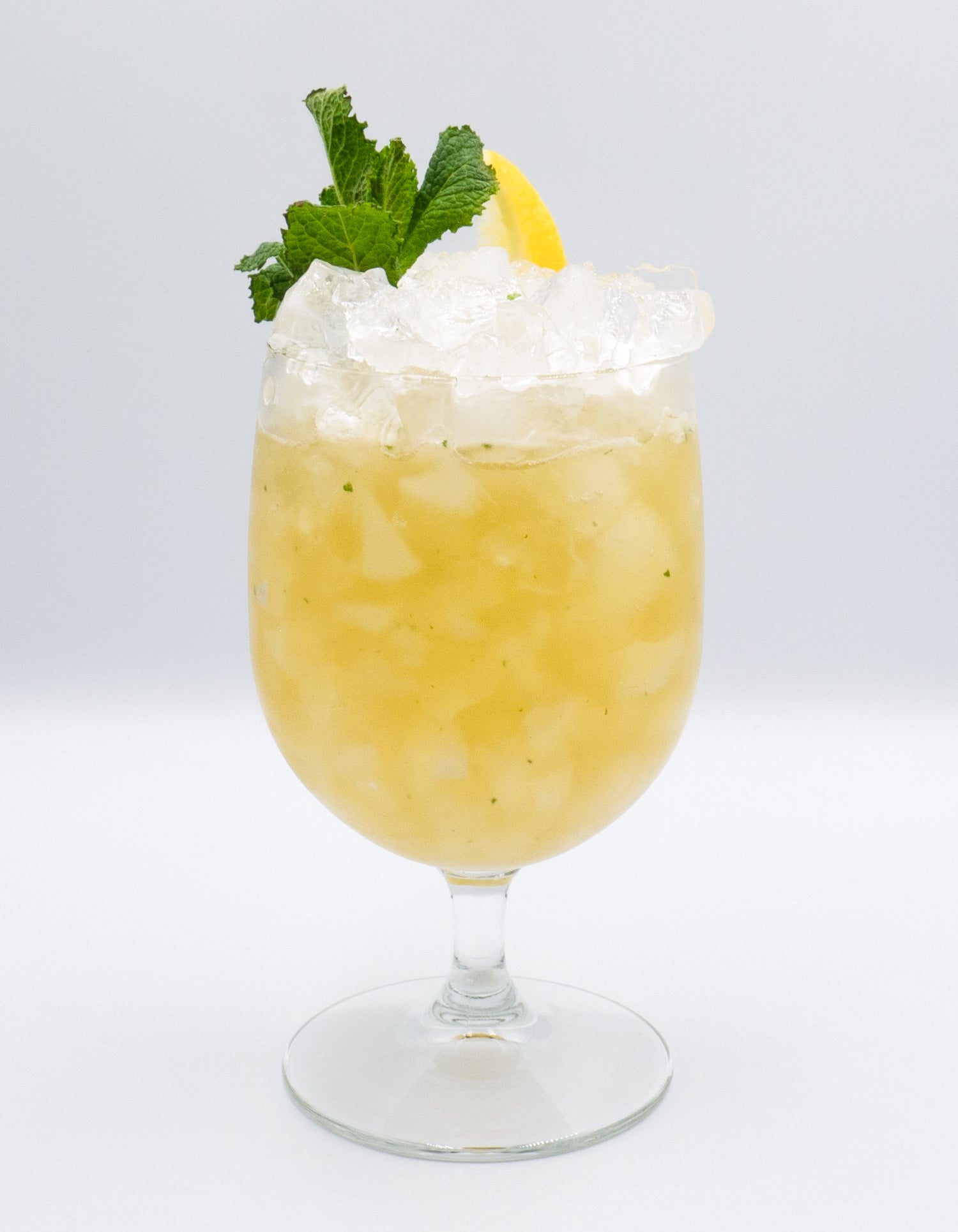 WHISKY SMASH
Here's a classic cocktail that's classy and refreshing: the Whiskey Smash! It's tangy and light. This historic drink is like a citrusy spin on the classic Mint Julep or a minty spin on the Whiskey Sour.
60 ml.          EtOH Double peached
20 ml.          Lemon juice
22 ml.          Simple syrup 1:1 volume
6.                  Mint leaves
Place the mint leaves in a cocktail shaker. Muddle 4 to 5 times to extract flavor. Add the lemon wedges and muddle again.
Add the Double Peached and simple syrup and fill the shaker with ice. Shake until cold and strain into a glass. If desired, add a splash of soda water. Serve with crushed ice.